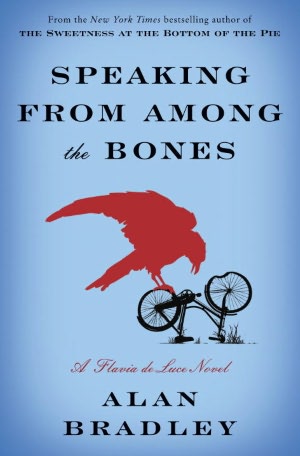 St. Tancred's Church, England 1951. In order to celebrate 500 years since the death of their holy Saint Tancred, the church membership will open his tomb. Flavia de Luce, a rather precocious child, makes sure she is on hand to witness this epic occasion. On the day the tomb is opened, Church Organist Mr. Collicutt, missing for the past several months, is found entombed in the crypt that houses the saint. Nothing puts Flavia's detecting skills to the test like a dead body presumably poisoned. Flavia, for only being 12 years old, is something of an expert in poisons after staking claim to the chemistry laboratory of her deceased Uncle Tar in the moldering estate of her impecunious family.
Getting around the village and countryside with her trusty bicycle, Gladys, inherited from her mother – missing and presumed dead in a mountain climbing accident - Flavia runs a parallel investigation with the local constabulary.

The Inspector warns her that her detecting would put her in danger if the killers realize she is getting close to the truth, for Flavia has solved murders in the past and has built herself something of a reputation for crime solving.
This time Flavia has competition when Adam Sowerby, flora-archaeologist, as well as Miss Tanty, chairman of the Altar Guild, want to collaborate with Flavia on finding the killer and be part of her investigation. Three amateur sleuths trying to figure out the Legend of the Heart of Lucifer gives a motive as to why Mr. Collicutt was murdered.
Book five in the series, you can read more about Flavia de Luce on her website:
http://www.flaviadeluce.com