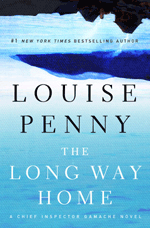 In
How the Light Gets In,
the previous book in this series, Clara's husband Peter Morrow, was banished from Three Pines by Clara, but told he could come back in a year if he still loved her and could accept her rising success as an artist while his own artistic career was in a decline. One year later, and a few weeks after the date of return, Clara goes to Former Chief Inspector Gamache who has retired to the remote village of Three Pines in Canada, to get help to find Peter. No answer from Peter was not what Clara was expecting.
10th in the series, you may want to start with the first book,
Still Life.
Find in new books: Fiction PENNY and here is Louise Penny's website:
http://www.louisepenny.com/