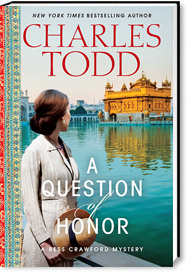 Bess Crawford is back in this fifth book in the series where all the killing is not on the battlefield during World War I.
Flashback to ten years before when Bess and her family are stationed in India. Her father is a colonel in the British Army. Lieutenant Wade, a soldier in her father's regiment, is accused of killing five people and escapes before he is prosecuted and presumed killed in Afghanistan.
Now in 1918, Bess Crawford is a nurse working on the battlefields of France when she hears a dying Indian sergeant say he thinks Wade is still alive and fighting the Germans. Bess can't let it go and enlists family friend Sergeant-Major Simon Brandon to help her find out the truth about Lieutenant Wade.
Website:
http://charlestodd.com/