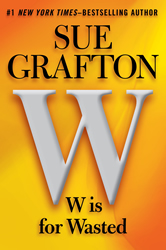 W is for Wasted by Sue Grafton
The first was a local PI of suspect reputation. He'd been gunned down near the beach at Santa Teresa. It looked like a robbery gone bad. The other was on the beach six weeks later. He'd been sleeping rough. Probably homeless. No identification. A slip of paper with Millhone's name and number was in his pants pocket. The coroner asked her to come to the morgue to see if she could ID him.
from the website.
http://www.suegrafton.com/
The Mayan Secrets by Clive Cussler and Thomas Perry
Husband-and-wife team Sam and Remi Fargo are in Mexico, when they come upon a remarkable discovery—the skeleton of a man clutching an ancient sealed pot, and within the pot, a Mayan book, larger than anyone has ever seen. The book contains astonishing information about the Mayans, about their cities, and about mankind itself. The secrets are so powerful that some people would do anything to possess them—as the Fargos are about to find out.
from the website
http://www.cusslerbooks.com